COPE - Improving the Drug Treatment of Bleeding after Childbirth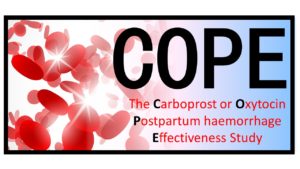 A UK-wide trial to assess the most effective drug to use to control post-partum haemorrhage (PPH).
The study is looking at whether oxytocin or carboprost should be the first drug given to women in the event of PPH and is aiming to recruit 4,000 women across four years.
It could impact on the way hundreds of thousands of women in the UK and beyond are treated for this common pregnancy complication.
Around 40,000 British women suffer a PPH every year. Although it can usually be treated, it can lead to long-lasting complications. Globally, however, it remains a major cause of death and is responsible for around 25% of the 289,000 maternal deaths annually.
There are currently concerns that the frequent use of oxytocin during labour makes oxytocin therapy less effective when needed for PPH. Carboprost (a different type of drug, known as a prostaglandin), may be a better alternative in these women, but this has never been tested.
The trial will run in up to 40 UK hospitals. The trial is currently in set-up with training taking places in the first tranche of pilot sites. The hospitals are all in receipt of NIHR CRN support to undertake this Portfolio trial.
For more information see the COPE website.