Hidden cost of COVID: keeping life saving research on track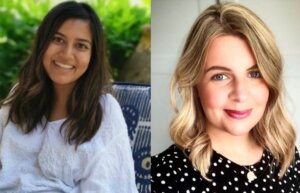 A hidden cost of COVID-19: knocking life-saving research and solutions off course
Every two minutes a woman dies somewhere in the world from preventable causes related to pregnancy and childbirth
94% of all maternal deaths occur in low and lower middle-income countries
In 2019, 1 birth in every 16 seconds were stillborn
Two friends and early career researchers, passionate about global maternal and new-born health have joined together to unite researchers across the world through the first podcast of its kind "Sanyu Sisters Podcast".
The presenters are Dr Teesta Dey and Dr Amber Wilson, both obstetrics trainees in the North West, and passionate, enthusiastic early career researchers at the Sanyu Research Unit. The unit is based at Liverpool Women's Hospital and is part of the University of Liverpool's Department of Women's and Children's Health.
Teesta said: "The collateral damage of COVID-19 has been profound and extensive and global maternal, newborn and stillbirth researchers have not been spared.
"As we look to what the post-COVID landscape might look like, it is important we take stock of the important lessons we've learnt and what opportunities the pandemic has presented, for all researchers to take forward into our future work.
"There are so many agencies working to protect women's maternal health and prevent newborn deaths and stillbirths – we want to help and support each other."
Amber said: "We wanted to create a podcast to engage with other researchers globally and build and share this important dialogue. Although based in academic global maternal and newborn health, it is an opportunity to build this conversation in a fun and interactive way.
"We have been so fortunate to be able to speak to a range of maternal, newborn and still birth specialists who have given us some fantastic and invaluable insights on how they have managed to side step COVID and keep their research on track."
The podcast is available on all streaming platforms for download or direct via
https://anchor.fm/sanyusisters
This new fun & friendly global podcast aims to promote unity and collaboration and share the trials & triumphs of research and most importantly learn from colleagues across the globe.
Their first series 'Sidestepping COVID: Keeping Research On Track' journeys through the research cycle, from starting out and building a research question to dissemination of findings. It provides an honest conversation about challenges faced, innovative solutions & positive lessons learned from COVID 19.
Follow and Be Part of the Conversation on @SanyuSisters (Twitter) @Sanyusisterspodcast (Instagram) for regular updates.
The Sisters invite comments or questions via: sanyusisterspodcast@gmail.com
Editors notes
For more information call Stuart Baird, 07799 678009
The Sanyu Research Unit, based at the University of Liverpool's Department of Women's and Children's Health, is dedicated to improving maternity care worldwide, particularly in poorer settings. We also work in close partnership with the Sanyu Africa Research Institute (SAfRI), based in Mbale, Uganda.
The unit aims to generate sustainable improvements in maternal and infant health. Its goal is to develop and evaluate low cost technologies for clinical care that will have a direct impact on mothers all over the world.
The Department of Women's and Children's Health and the Sanyu Unit are a World Health Organisation (WHO) Collaborating Centre for Research and Research Synthesis in Reproductive Health.
It works closely with local healthcare providers and government to strengthen the research capacity and promote inspiring models of maternal clinical practice.